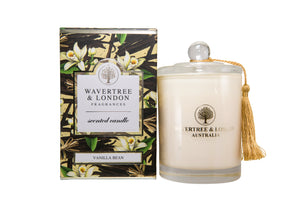 An exotic infusion of pure Vanilla Beans with the sensuality of creamy caramel and musk. Magical, warm and unforgettable.
These decadent Wavertree & London Candles are carefully hand poured into our unique glass containers to create an intense aromatic experience.
All our fragrances are truly exceptional and have been created by us to give a long lasting and exquisite perfumed ambiance.
60 Hour Burn Time
Triple scented to offer a long lasting fragrant candle
Made from natural soy wax and cotton wick
Hand poured by us in Australia